We empower people and organizations to solve complex challenges and create positive change through strategic practices, design, marketing, technology and innovation.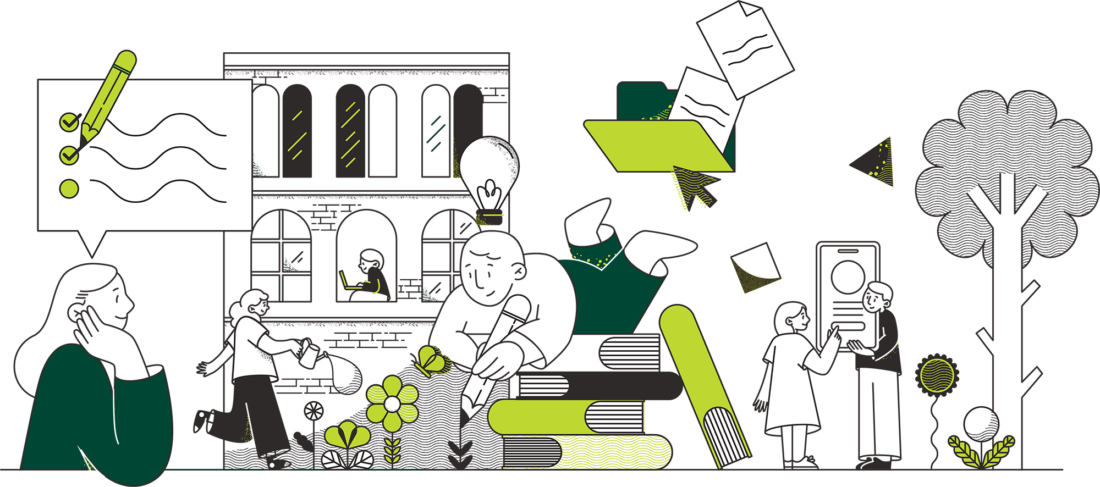 We could brag about our people, but their work speaks for itself
We were founded as a one-person studio in 1998 on principles of creativity, innovation and impact. Two decades later, we have evolved into a firm of over 20 brilliant thinkers, creatives, makers, developers, educators and entrepreneurs.
We're always on the lookout for motivated doers. Send us your CV here.
Where Tradition Meets Technology
Winnipeg
Imbued with a timeless, old-world allure, our Winnipeg office nestles within the heart of the Exchange District, a National Historic Site and vibrant cultural hub. Here, cobblestone streets wind through a tapestry of local culinary delights, creating an atmosphere steeped in heritage and charm.
Calgary
Our Calgary office is situated in the Northwest quadrant of the city, an industrial enclave intertwined with flight schools and aerospace facilities. This is where creativity truly takes off and innovation soars to new heights.
We're a Certified B Corp
In 2017, we became a Certified B Corporation as a reflection of our founding principles and to help us drive those same principles forward in everything we do.
As a B Corporation, Relish meets the highest standards of social and environmental performance, legally expanding our corporate responsibilities to include consideration of stakeholder interests. What does that mean? It means that it matters what we do and who we do it for.
Impact. Efficiency. Transparency. These characteristics make us who we are – one of just over 6,000 Certified B Corporations from over 150 industries and nearly 80 countries around the world.
We improve by assessing our practices and policies annually as they relate to our environment, our workers, our customers, our community, and governance.
---
We honour the diversity of our staff and promote their ideas, work and aspirations by providing a flexible workday and optimal work/life balance. We also provide an environment where each employee's skills and talents are used to full capacity as we work to achieve our client's overarching goals.
Our goal is to source, at every opportunity, from local suppliers who hold similar values and adhere to a high-degree of environmental awareness and accountability.
---
We are dedicated to improving the quality of life in our local community. We encourage community connections through paid staff volunteerism and mentorship programs. We also support urban agriculture and other local initiatives.
As well as sponsoring a number of community events, non profits and charitable activities annually, Relish gives back a minimum of 1% of its annual net revenue to community initiatives through our Relish Service Grants.
We answer to our stakeholders, not only our shareholders. We believe our local communities, global neighbours and future generations all have a right to know what we're up to and how we're going to use our company to make this world a better place.